As a top professional backer there is a great deal of public interest in Steve's work, most notably:-
IN PRINT
THE OBSERVER – Britain's foremost professional backer
The Observer started a unique year long study designed to answer two questions. Firstly, can subscribing to a betting advisory service ever constitute a legitimate form of investment and secondly, can an ordinary Joe really make a second income from gambling? Read more…
THE IRISH INDEPENDENT – The man who makes gambling a profitable livelihood
What do you see? Limo, designer suit, Monte Carlo, wire transfer, year-round tan, cravat. Cuban cigar, gold jewellery, Michael Caine. Suggest this to Steve Lewis Hamilton and he'd probably crease himself with ironic laughter.  Read more…
RACING POST – Three Part Series – Pro Punters

Racing Post senior writer Lee Mottershead interviews Steve along with a selection of other professionals for a three part series entitled Pro Punters. The series analysed the changes in betting from the heady days of the betting ring to the current digital age and then looked at the future. The series prompted a number of requests for more information about his work. Having responded to all requests personally he published the following on the website.
Following the three day feature on 'Pro Punters' in the Racing Post this week a number of people have been in touch regarding Steve's work as a professional. Read more…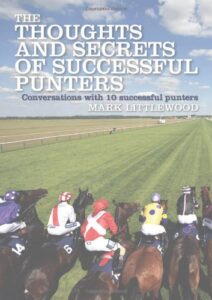 THE THOUGHTS AND SECRETS OF SUCCESSFUL PUNTERS
As part of a selection of interviews with author Mark Littlewood, Steve explains his betting strategies and his rise to the top of full-time professional backing.
ALSO IN THE PRESS…
Numerous other publications have profiled Steve's work. They range from National titles such as The Mirror, Sunday Express, The Daily Star, The Sunday Observer – right through to such publications as Women Magazine and various regional newspapers. Steve has also contributed to a variety of racing publications including those produced by Channel 4, Raceform and Weatherby's.
TELEVISION & RADIO
 "WINNERS" – I.T.V. DOCUMENTARY
– A facinating in depth study of the factors required to be at the very peak of professional betting. The documentary team spent three days with Steve to bring viewers an insight into what is required to be a winner in one of the most demanding professions imaginable.
RADIO 5 LIVE FEATURE
– Well known T.V. presenter, Adrian Chiles spends a day with Steve at the races armed with £100 of his own cash. We follow Adrian's humourous attempt to learn professional betting. Steve has just one bet on the day and advises Adrian to put his entire £100 on the horse, which he very nervously does having only ever risked a maximum of £10 on any bet in the past. Locked in a dramatic battle to the winning post the horse wins at 3/1 and the exultant delight of the presenter is infectious as he collects his biggest ever win from the bookmaker.
FROM LEICESTER TO ESTHER
– Requests for Steve's involvement can be varied. They range from appearances on Attheraces and Sky, BBC Television and Radio; the first professional backer asked to speak at Eton College, through to the more confrontational Esther Rantzen show.
ONLINE INTERVIEWS & PODCASTS
BETTING PEOPLE
Legendary rails bookmaker Mickey Fletcher discusses his life and work for a wide ranging interview series entitled 'Betting People.' In this episode he recalls his encounters with Steve and other on-course professional backers.
#BettingPeople MASTERCLASS: Steve Lewis Hamilton
Horse racing writer and on-course reporter Simon Nott interviews Steve about his life and work in a four part series.
As a viewer commented:
'Well it was worth the wait, just watched the first episode of Steve Lewis Hamilton's interview.
You can see why he stood the test of time with such an analytical brain.
Great watch for anybody interested'
PODCAST – Special interview 
Steve talks about his early days betting on course and his journey to becoming a full time professional, through to the challenges of betting in the modern day era. Read more…
Click on any of the links below to listen: