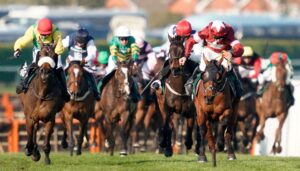 Book your place now and support the stable staff.
Your Aintree special membership package:
Aintree preview
Access to all of Steve's work from Saturday 3rd to Sunday 11th April
Membership options:
£20 Preview & membership 
£22.50 Above plus text and/or email service
Up to £20 of your fee will be donated to the Lambourn Valley Housing Trust (Registered Charity No. 1049742). The trust provide affordable housing for stable staff and their families.
'There are many reasons for a successful yard and one of the most important is the staff. They are not as richly rewarded as we would like and we are always likely to lose key trained lads and lasses when they have just married. Quite rightly they want a home of their own together, but cannot afford to rent anything suitable.'
Further details:
– Aintree preview contributors
Steve Lewis Hamilton, top professional backer
Donn McClean, Irish racing authority & backer
John Hunt, Racecourse & BBC Sports commentator
Short preview in which Steve assesses the British horses and Donn takes a look at the Irish challenge. Meanwhile John brings the on-course perspective. A few highlights from the 2021 Cheltenham preview…
Champion Chase: Put The Kettle On … the over-priced horse in the race. WON 17/2
Gold Cup: Don't rule out Minella Indo either… the forgotten horse of the race. WON 9/1
Membership
Starts Saturday 3rd to Sunday 11th April inclusive. All of Steve's work from the Private and Exchange Services plus the preview.
Alternatively, you may wish to start your special membership today. You can do this via the option below and still get the Aintree preview…
Start Now
All of Steve's work from the Private and Exchange Services with free text and/or email service on request.
'A masterclass in tactical value betting' – THE OBSERVER
The services explained:
Private Service: Steve's traditional bookmaker style bets. No odds-on. Over 90% of bets are win only.
Exchange Service: Steve's work on the betting exchanges. Laying short priced favourites, two against the field and higher stake win bets where the exchanges offer significantly greater value than the bookmakers.
Getting the bets:
Low cost telephone line for a fuller briefing. Call costs same as calling a 01 or 02 number and included in landline and mobile call packages. Lunchtime call.
Bets only by text and/or bets only and additional analysis summary by email on request.